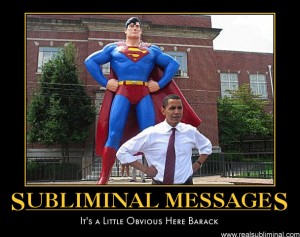 This is the master blog post for Barak Obama subliminal messages videos, images, and other related news.
This blog post will be updated regularly as any new Obama subliminals are released.
The last update was:  April 2009
Before we get to the examples of Obama actually using subliminal messages here is a video where he is the victim of these messages – at the hand of John McCain, his rival for the Presidency.
This is a short clip from an election campaign video by McCain in which there is a sign held by the crowd which originally spelled out "CHANGE" – an Obama slogan, however the McCain team have edited out the letter "C" so that the word spells "HANG". This has been confirmed as fact due to the photoshopping of the sign to remove the first letter:
Now we move from Obama being the victim to reported instances of him using subliminal messages himself.
First of all here are 2 videos which have been posted online where people have found images of Obama flashed for split seconds on TV. It is not known whether Obama paid for these, whether they were just coincidencs, or they were purposely made by Obama supporters.
The second instance comes from the Discovery Channel at the point where they go from their own adverts about upcoming TV shows to showing other commercials, again, no comment has been released about this so how it came to be there is still a mystery:
Now here are some videos in which Obama speeches have been reversed and analysed for subliminal messages.
This video comes from the Obama victory speech when it is first announced he has won the election and will be the next President of the United States:
This next example claims Obama to be using satanic references in his speeches. It is claimed that when he says "Le me Express" he is saying "Serve Satan" and that his famous catchphrase "Yes We Can" when played in reverse comes out as "Thank you Satan":
If you have any more examples of Barak Obama subliminal messages / adverts please leave a comment and we will add it to our subliminal video Obama collection.