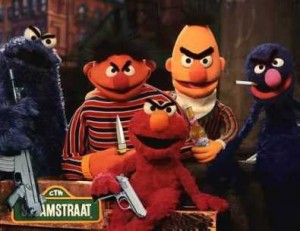 If you think Sesame Street is all fun and games thing again. Watch this vid to see what happens when the Seasme Street tune is played in reverse, as it reveals some hidden subliminal messages.
Some of the messages seem a bit garbled and a bit of a stretch to fit what the video designer says they are saying, however there are some messages towards then end which sound plausible and seem to be included intentionally. Examples of these messages include the sentences like:
"Suicide Swiss take his life"
"Everybody goin to die"
"Really well… So there's no men near now."
"This is where he fell… near WallMart"
But, as usual, here is the video, judge for yourself and tell us what you think.