Welcome to the official resource for the Lion King subliminal messages. In this article we will show you a video and pictures and talk about how it is highlighting the various subliminal suggestions in The Lion King.
The most famous example is where Simba is sitting on a mountain top depressed and the stars form into his father who speaks to him. During the formation of the stars they briefly align to form the word "Sex".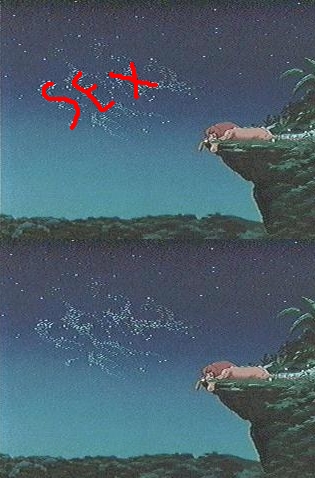 What was Disney's response to the alligations of them using subliminals? The same as always – it is just a coincidence and not intentional…
The above picture is mostly what all people are aware of in the Lion King, but here is a video going through the movie pointing out various examples of the word "Sex" and other subliminal symbols throughout the entire movie.
For example an outline of a woman, and even her nipples are shown in the fire, then there is the word sex visible in scenes when young Simba and his lioness playmate are together, and of course the word sex is hidden many times in the jungle in scenes where Timon and Pumbaa are shown.
With the first example, the stars in the Sky you might be tempted to dismiss it all as a coincidence, but then with the multitude of examples shown in the above video it all seems a bit more plausible and is a lot harder to just dismiss as coincidence.
Apparantly many of these messages have now been edited out in later DVD releases, which even further suggests that they were in fact put in intentionally and Disney is covering up their tracks. But if you have the original releases on VHS you should still be able to see them, so get your copy out and if you find any more please let us know 🙂